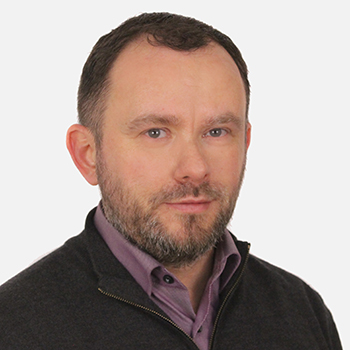 HSE Faculty of Computer Science Opens
Ivan Arzhantsev, Professor and Dean of the Faculty of Computer Science
---
At the very beginning of 2014, Yaroslav Kuzminov and Yandex CEO Arkady Volozh agreed to meet and discuss the possibility of creating a new faculty at HSE. Agreements were reached at the third meeting held to discuss key issues, but there was not a lot of time before the admissions window opened – it was already March 28th. Elena Bunina, Yandex's Human Resources Director and the Director of the School of Data Analysis' Computer Science Department, asked if an enrolment campaign could be started. Vadim Radaev said that we could announce that we were accepting applications for the new faculty only after the university's Academic Council approved the proposal. We inquired as to when the council would meet next, to which Yaroslav Kuzminov replied, 'in several minutes.' We left the rector's office having promptly made copies of the conceptual documentation and having added the agreed upon requirements, and we walked right into a hall that was overflowing with 150 members of the Academic Council. I still don't know if our presentation had been planned beforehand. In any case, this was when we realised that one can never get bored at HSE.
Presenting the proposal for the new faculty, Yaroslav told the councilmembers that in the IT sphere Yandex was like HSE was in science and education – a young and ambitious leader. He added that it would be easy for our teams to understand one another. That's how it worked out. For all of these years, Yandex has played an important role in the faculty's development. Experts from the company and instructors from the Yandex School of Data Analysis helped develop the proposal and update the Applied Mathematics and Informatics bachelor's programme. We met quite often and had intense discussions on what, who, and how to teach, as well as how to factor in international experience, Russian traditions, and our own capabilities, all while not breaking any formal rules.
Now dozens of 'Yandexoids' help teach required courses, electives, and extracurricular activities in the Faculty of Computer Science. HSE and Yandex are partners in many large projects, and internships at the company are popular among undergraduate and graduate students from the faculty. Yandex is also one of the main employers of our graduates. During the faculty's first academic year, a scholarship was set up in honour of Ilya Segalovich, one of Yandex's founders. Each year 16 undergraduate and graduate students receive the scholarship. These are students who study science and technology and have achieved great academic and research success.
A presentation on the new faculty took place in April 2014 at the ZIL Cultural Centre. The first presenter was Russian Minister of Communications and Mass Media Nikolay Nikiforov. While meeting with many students over the course of several years, I would periodically learn about the kids deciding to enrol in the Faculty of Computer Science after listening to Nikolay's speech. This is a prospective field and IT at HSE will continue to be top notch.
In 2006, the faculty gained an applied mathematics and informatics department, as well as the School of Business Informatics' software engineering department. These divisions coexisted, but by early 2014 the software engineering students had moved to Kirpichnaya Street, while the applied mathematics division was on Bolshoy Trekhsvyatitelskiy Pereulok. In order to get better acquainted, in spring 2014 we began holding working meetings. We would take turns going to the two departments, and we met several times on Myasnitskaya Street. Gradually these meetings turned into regular meetings for the faculty. On December 4, 2014, we elected the faculty's Academic Council, the members of which have gone practically unchanged over the last three years.
The departments formally became part of the faculty on September 1. Before that, in the spring, I would walk alone down the corridors of the Myasnitskaya building trying to figure out the specifics of this job, which was absolutely new for me. I was greatly aided by the advice and support of Elena Artyukhovaya, Oleg Zamulin, Sergei Lando, Vadim Radaev, Sergey Roschin, and many other colleagues from HSE. We brought in new employees and the faculty's team came together rather quickly. We still work with practically all of them to this day. By early summer, in addition to meaningful organisational and bureaucratic issues we started handling maintenance and utility problems as well. We began preparing for the faculty's move to the campus on Kochnovsky Proezd.
I'll never forget our first admissions campaign in summer 2014. We received around 230 applications from students eligible to enrol without entrance exams, but there were only 100 state-funded spots in the applied mathematics and informatics programme. In the end, nearly 150 applicants were admitted to fully funded spots, including those paid for by the university itself. The Faculty of Computer Science immediately became known for being the faculty of olympiad winners, and we got a big surprise our first academic year when a team of undergraduate freshman made it to the finals of the ACM-ICPC International Collegiate Programming Contest. A year later our students began participating in and winning international student olympiads in mathematics.
On September 11, 2014, I began working on the faculty colloquium. At the first meeting Alexander Shen, the Director of Research at the Montpellier Laboratory of Computer Science, Robotics, and Microelectronics, talked about algorithmic information theory and individual object randomness. We held our first IT lecture series on October 27, where Facebook engineer Alexei Maikov spoke. Both of these became regular events for us, and the number of presenters at the colloquium grew to exceed 50. Then we started a channel on YouTube, where we post videos of all important faculty events.
Then in December 2014 the faculty started its first project-learning group that was tasked by the company EMC with researching the bioinformatics market in Russia. The group studied bioinformatics programmes and companies that work in the field, as well as organisations that focus on the popularisation of bioinformatics. Since then, the faculty has regularly conducted applied research for companies and academic centres, and the project-learning groups remain a convenient way of organising this kind of research.