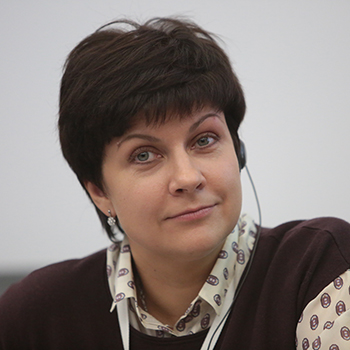 HSE Goes to Town
Valeria Kasamara, Senior Director for Government Relations and in 2012 Public Relations Director
---
The idea of celebrating HSE Day at Gorky Park came about completely by accident when in May 2012 we discussed options for celebrating the university's 20th anniversary. The university's birthday had traditionally been celebrated on November 27th and coincided with the Golden HSE awards ceremony. But for the 20th anniversary we wanted to do something new and unique. We wanted to show all sides of HSE, demonstrate its multifaceted nature, and pull back the curtain on the school's everyday life. This is where the idea came about to take the Moscow campus to an open urban platform so that anyone can visit us and feel HSE's true spirit.
For this event we just had to select Moscow's most fashionable location in 2012 – Gorky Park, which had just undergone renovations. For the first time ever, at a single location on September 6, 2012, we combined the university-wide open house, student organisation presentations, Freshman Day, various lectures and workshops, and a grand concert with fireworks. And when our amazing celebration came to an end and we heard a loud 'thank you,' we knew that this event would become tradition and also likely be a favourite for anyone who has had, does have, or will have a relationship with HSE.
After our first HSE Day at Gorky Park, we developed a really wonderful relationship with the park. The park's ideology has completely changed now, as it has turned from a place with kebabs and attractions into a stylish space where young people have started gathering en masse. We understood that we have a lot in common since our main audience is very similar, and we started thinking about how we can be of use to one another. We remembered the open lectures that were organised on HSE Day and knew that this is exactly what we need. This is where the idea of a public lecture series at HSE came about.
We chose Gorky Park in particular because at the time it was the most fashionable and popular location in Moscow, but also the park itself wanted an educational platform. We didn't even consider alternatives. Aleksey Maslov, the head of the School of Asian Studies, gave the first lecture on the Mysteries of Chinese Culture in the rain.
At the beginning many of our lecturers had a certain prejudice when it came to public lectures outdoors in a park. One lecturer couldn't believe that the park had changed so drastically and that his attendees were prepared for intellectual pursuits. Stereotypes were broken as the project gained momentum.
We chose lecture topics that would be of interest to a broader audience so that the most unprepared and ordinary visitors of the park could attend and understand. We asked our lecturers to talk about complex issues in a simple way. And hats off to our colleagues for being able to do this… Alexey Ulanovsky, for example, offered games and tests to participants, while Danil Fedorovykh showed cartoons and film clips to talk about game theory in a simple way. Alexander Pavlov, whose lecture had a full house the first year of the series, talked about mass culture using the example of TV shows that are very popular among a younger audience. We had at least 100 attendees at each lecture, no matter what the weather. With time, we amassed regular visitors to the lectures, which of course made us happy.
The HSE public lecture series at Gorky Park featured 16 lectures its first year. Because of this, both the organisers and the lecturers liked this format. Our first speaker, Alexey Maslov, once suggested, 'During colder periods when we are forced to interrupt our outside lectures, why not move to museums and give the lectures there?' This is how our second lecture series, which is held at various museums around Moscow, came about. Alexey Maslov was also the first speaker there. Over the course of the lecture series' first year, we discovered a large number of museums we didn't know about before. We initially didn't want to give lectures at hyped up museums that everyone knew about, and we looked for lesser-known museums and matched their theme to the lectures. We recorded informational clips about them and brought our attendees to these smaller, but very comfortable and interesting, museums.
Since distinguished professors gave the majority of the lectures, and HSE is also proud of its younger scholars, we thought it was unfair to devote all of our attention to our senior colleagues, and we organised a separate lecture series for young scholars at the ZIL cultural centre. And we didn't stop there.
The next step was to start a lecture series in St. Petersburg that was timed with the 15th anniversary of our campus in St. Petersburg. HSE Academic Supervisor Evgeny Yasin gave the first lecture at the Anichkov Palace.
The year 2013 gave life to four HSE lectures series that still exist today and continue to carry out their main objective – giving people knowledge and shining new light on academic fields that might have previously been seen as boring, obscure, and complex. We are all unquestionably pleased that HSE didn't stop there and continues to find new locations for lecture series, such as VDNKh park.
---